ECOMMERCE ECOSYSTEM

Implement integrated systems instead of silo solutions

Start out with Logishop and build your own e-commerce ecosystem! Grow your online channels as your business grows by expanding the elements of your ecosystem.

Request a quote
ECOMMERCE ECOSYSTEM
Start out with Logishop and build your own e-commerce ecosystem! Grow your online channels as your business grows by expanding the elements of your ecosystem.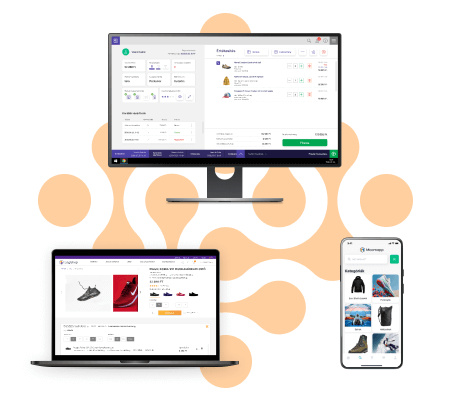 Integrated e-commerce product system consisting of webshop, mobile shop application and in-store digital solutions
Grow your online channels as your business grows by expanding the elements of the ecosystem
Gather customer information from all channels to send your customers more personalised offers
Use digital tools to improve customer experience in your sales channels
Rapidly deploy your digital solutions with pre-built integrations between modules
Logishop B2C webshop
B2C e-commerce platform with ERP connection:
B2C shopping features (smart product search engine, order tracking, emailing, recipient list management, built-in marketing features)
UX Design for the perfect user experience
Speed and stability, essential for search engine optimization (SEO)
Ability to make custom improvements that differentiate you from your competitors
Built-in integration with Cégmenedzser ERP, seamless integration with other business management systems, marketing solutions
Learn more about the Logishop B2C webshop!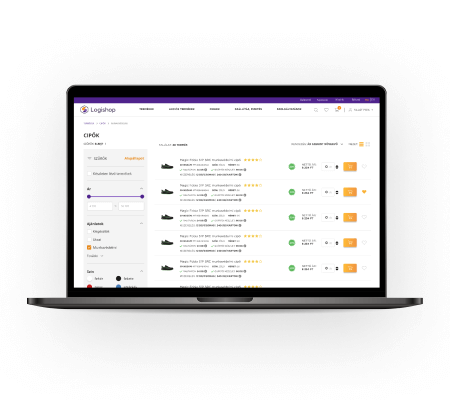 Logishop B2B webshop
Reseller and partner e-commerce platform with ERP connection:
Fast, easy ordering/reordering functionality
Transparent product structure, detailed product descriptions
Manage different price list levels for partner groups
New partner registration with approval process
Quick product list creation with dynamic lists
User roles and privileges management
User experience optimised for resellers
Learn more about the Logishop B2B webshop!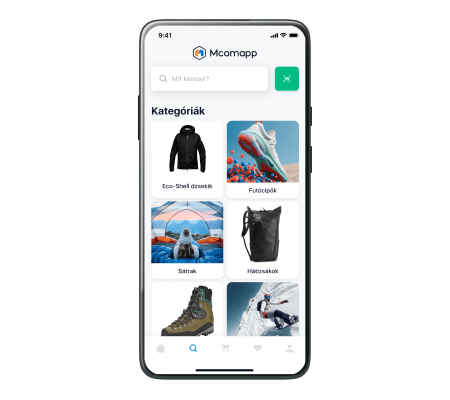 Mcomapp mobile shop application
Modular, customizable shopping app developed for iOS and Android platforms
The mobile app complements your online sales channels
Supports in-store sales with e.g. store locator map, digital loyalty card, stock information
Provides users with an extra experience, useful features not necessarily available in the online store, e.g. push notification messages, native features, utilising camera, GPS, location
Using an app, you can achieve higher shopping cart value and higher conversions than with a mobile responsive webshop
Learn more about the Mcomapp shop application!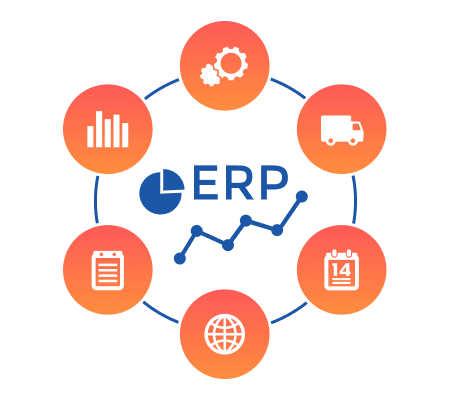 ERP integration capability
Our e-commerce ecosystem enables seamless integration with ERP systems and marketing solutions. Our product system includes a webshop, a mobile application with an API first system and business processes that can be used by all platforms.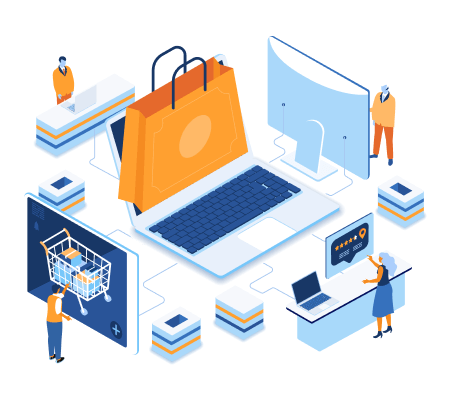 Digital in-store solutions
In addition to having a webshop and appshop, it is important for a company to connect its online and offline channels (creating an omni-channel experience) and integrate in-store digital solutions (e.g. POS, vendor portal, buyer portal) and the digitalisation of the in-store process into this ecosystem, in order to realise the growth potential of e-commerce.
Ecommerce Growth Ebook
Are you planning to start a webshop or mobile shop? Or do you want to improve your online sales channel? Download the Ecommerce Growth Ebook with lots of useful tips and guidelines for free! The ebook is only available in the Hungarian language.
The development of our web and mobile e-commerce solutions was supported by more than 10 years of e-commerce and systems integration experience.
Learn more about us, how we work, how we help our customers grow online!
(The video is available in the Hungarian language.)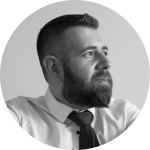 In the past, when it came to IT development, we sometimes felt that we, as the customer, should know what the right solution would be. This is not the case with LogiNet. Their experts know what they are doing, assess the situation and recommend the ideal technology solution for the job. In short: you can see the routine and the years. They have well-established, smooth processes and are easy to work with, both in general and on webshop tasks.

Perger Tamás, Magic Tools Ltd.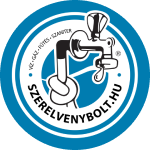 What we like very much about LogiNet as an IT development partner: the human language, the professional approach and the maximum documentation. All this makes things predictable and plannable. They really understand what they are doing, but just as importantly, they are able to communicate with us in human language. This is a rare good quality in an IT company. In a typical development company, the effectiveness of the work can be hurt if they cannot translate IT jargon into "customer language". With LogiNet, you don't have to worry about that.

Patonai Roland, Szerelvénybolt Ltd.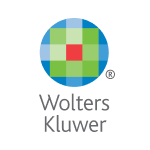 It's time for others to realise: customers often want something completely different in a webshop than what the owners imagine. We also need to see the process, the whole picture, through the eyes of the user. The secret of efficiency is to adapt to this. To map all this, we need expert knowledge in the field. The experts in LogiNet's UX division have made this available to us, available for use as part of their consultancy. We were able to fix problems that the customer would notice.

Varga Csaba, Wolters Kluwer Hungary Ltd.
REQUEST A QUOTE
Improve your business efficiency and increase your revenue with customized software solutions tailored to your business needs! With LogiNet's expertise, you can plan for the long term: let us know about your ideas, a problem you're trying to solve or your overall business goals, and we will get back to you shortly!
request a quote