Auchan Hungary online store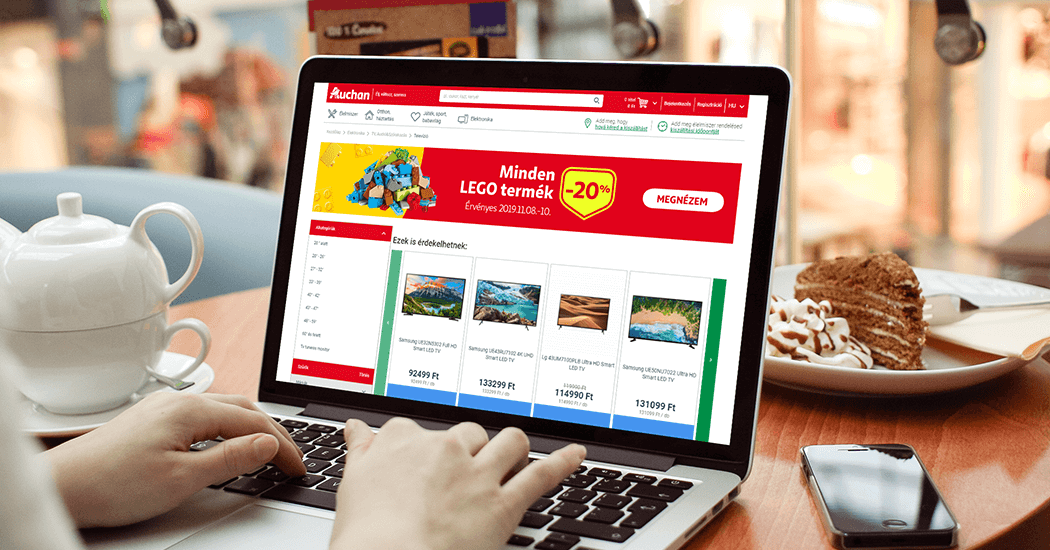 Auchan is one of the largest retail chains in the FMCG market in Hungary. LogiNet, in collaboration with the rEvolution Software team, delivered a fully customized webshop system, from design to integration, for Auchan, an international company, based on LogiNet's eCommerce Suite product.
Background
Auchan Hungary's online ordering interface and delivery service was launched after 10 months of development work. The webshop system provides outstanding, modern services and a high-quality user experience, launching Auchan into the highly competitive market of competitor webshops.
---
Success
The sophistication and stability of the back-end service processes (logistics, delivery times, inventory management, and order modification) have the greatest impact on the quality of service. These are powered by the Microsoft Dynamics NAV business management system.
Together with our partner, rEvolution Software Ltd., and the consultants and development staff working on Microsoft Dynamics NAV, we assessed the processes, needs, and planned the entire process of serving orders. Based on this, we developed the communication between the backend and frontend system on both sides (web, erp).

---
Main services of the webshop
Continuously open, transparent, up-to-date interface
Responsive design (the entire process is also available from mobile browsers)
Completely custom designed UX and design (the appearance and process were customized for Auchan)
Product search and ordering interface, with product substitution function
Booking and managing transport regions and time windows
Customer self-service functions (address management, order management, order modification, invoice download)
Integrated operation with Microsoft Dynamics NAV ERP
Integration with Auchan's internal product data records (PIM)
Auchan loyalty card/point system integration
OTP-based credit card payment, memorizing card details, managing multiple cards
Microsoft Azure cloud service-based operation
We are proud to have partnered with Auchan, a renowned and outstanding company, whose services and products enabled us to serve tens of thousands of customers.
---
Applied technologies, solutions
LogiNet Ecommerce Basic System - Webshop Ecosystem
Microsoft Dynamics NAV ERP | Microsoft Azure Cloud