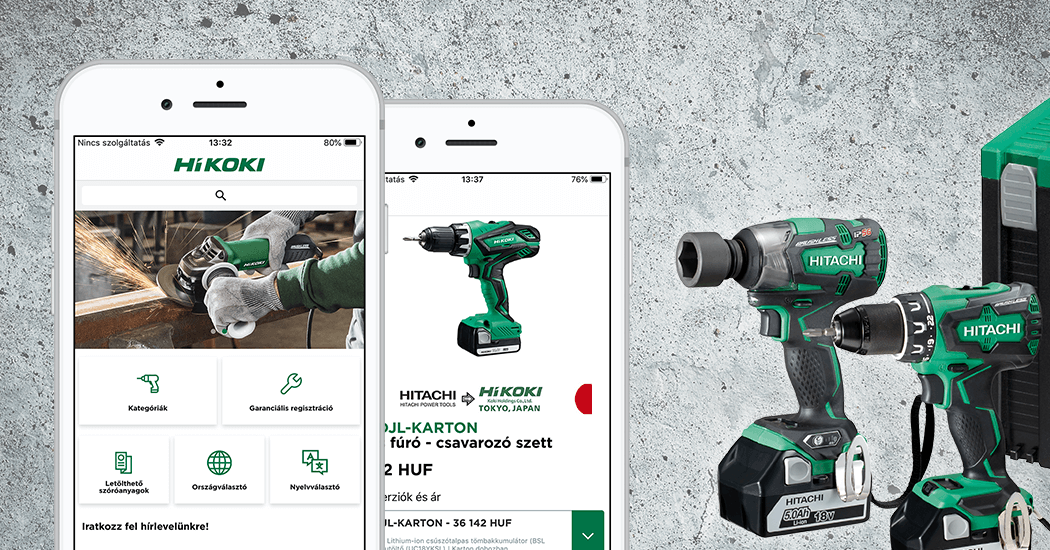 What does client experience mean for a manufacturer's application? How can you increase turnover using a mobile app, when sales in conducted exclusively through distributors? We are proud to report that in the autumn of 2019 the LogiNet team was able to solve these challenges as the developing partner of the giant Japanese tool manufacturer, HiKOKI. Our answer is a catalogue application, which is based on our Mcomapp appshop product, but offers unique solutions.
Background
Since autumn 2018 the Japanese Hitachi continued its operations as HiKOKI, with new ownership structure, under a new brand name, but using the knowledge and manufacturing technology experience collected throughout several generations, which are essential for producing excellent quality tool equipment. The third largest technology company of the world wants to utilise the opportunities provided by the new financial investor for sustaining growth on the European market as well.
In accordance with its field of expertise, the company considers innovation as a key factor for reaching its potential customers, not only while designing new individual tools, but applies the same vigour for developing its online communication / sales channels. Especially with regard to the mobile audience, which they are planning to target using a new catalogue application in the Central-Eastern-European region.
---
Goals and challenges
In order for the mobile app to comply with HiKOKI's expectations, the LogiNet developer team had to apply a different logic from the one of the e-commerce systems optimised for serving retail customers.
Since HiKOKI as a manufacturer:
does not perform sales directly, however, its income is determined by the turnover conducted by its distributors, so their app could not be built and operated as a classic webshop. The main goal was to support partners' sales activity as an informative surface, presenting their products with detailed descriptions.

as the brand meets retail customers face-to-face only during the administration of warranty repairs and related service tasks, they needed solutions and functions in the app, which help to shape this meeting into a customer experience.
The challenge became even more intense due to the fact that the Japanese giant entrusted the LogiNet team with developing an app, which is able to perform its tasks with outstanding stability, easy-to-navigate interface, having room for future expansions and working with adequate speed, but moreover, it's able to handle product lists from multiple countries, to display both English and Hungarian content. HiKOKI aimed to cover the tasks above in Albania, Bosnia and Hercegovina, Bulgaria, Croatia, Hungary, Kosovo, North-Macedonia, Montenegro, Serbia and Slovenia by introducing the app.
---
Solution
HiKOKI application: corporate product finder + online showroom + customer service to support growth
Our custom developed HiKOKI catalogue application was created to respond to these requirements, merging the functions of a manufacturer-oriented product finder page with the rich details of product pages in a digital showroom.
Moreover, managing warranty issues can be done by using a convenience service available at only a few clicks. By using the service, the warranty is extended for an extra period, creating the opportunity to establish a positive connection between the brand and the customer.
According to the plans, the application does not provide an opportunity for buying products, however, when browsing the catalogue categories for any product, the application collects those partners, where the chosen product is available for sale. In case of online shopping the app navigates you to the partner's own webshop, where you may complete your order, or you can use the app's map view to send GPS data to your mobile, and identify the closest physical shop for concluding the purchase personally as soon as possible.
By directing visitors to reseller webshops and stores the company can help increasing its partners' sales, further strengthening their market position and growth opportunities.
LogiNet mobile app solutions: innovation on sound foundation both in the B2C and B2B sectors
When building our unique native mobile application for HiKOKI, we heavily relied on the knowledge gained during the development of Loginet's own mobile application and appshop product. Our e-commerce tool, Mcomapp, which can be used both for B2B and B2C customers, is helping the sales activities of such partners as Auchan, the largest domestic retail chain, so it provides a sufficiently sound basis for development both in terms of stability and speed, as well as for security and GDPR-compliance.
For HiKOKI we have added custom-made, extended functionality, redesigned backend and design solutions that correspond to the industry-specific expectations.
Our team of mobile and backend developers, testers and project manager coordinating the work collaborated with the professionals from LogiNet Group's UX division, 22.design, in order to provide the planned user experience.
---
---