With over 10 years of e-commerce development experience, our company has worked mainly on PHP, Java, and mobile development technologies. We are familiar with countless frameworks, we are aware of the related technologies and solutions that are associated with a given programming language.
Do we guarantee long term technological development support with our company?
Yes, in order to preserve our long-term support and development capabilities, we only work with widespread, proven technologies with a large developer base.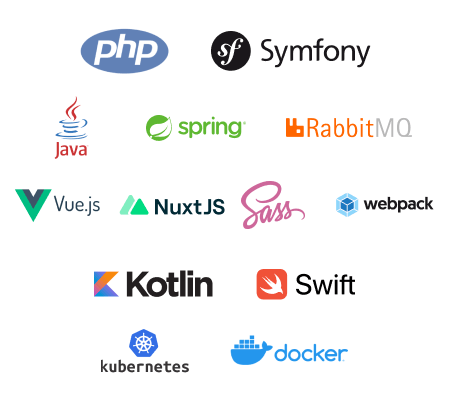 What is the guarantee that the technology we propose is right for the job?
We always individually look at our partner's industry, business profile, and the job at hand, and then suggest the appropriate technology. For example, for warehousing software, we would recommend more robust Java solutions, meanwhile a startup interested in innovation should consider the widespread PHP programming language.
Technological competencies
Java stack
Java 11, Java 17, Spring, Spring Boot, Spring Cloud, Spring Security, Spring Data, Spring MVC, Spring Integration, JPA, Hibernate, QueryDSL, Lombok, RabbitMQ, RESTful, OpenAPI, JSON, JWT, Maven, Gradle, Docker
PHP stack
PHP 7.x, 8.x, Symfony 4.4, 5.x, API Platform, MySQL, PostgreSQL, Doctrine, TWIG, Redis, Composer, PHP Unit
Node stack
MongoDB, Mongoose, Express, Koa, Mocha, Chai
Frontend
VueJS, NuxtJS, SCSS, Node.js, REST API, JSON, HTML, Webpack, ES6, JavaScript, CSS, Buefy, ReactJS
Mobile
iOS - Swift, SwiftUI, Xcode, UIKit; Android - Kotlin, Android Studio, Android SDK, Cross platform (Flutter, Dart)
Integration
SOAP, RESTful, XML, JSON, SOA, Swagger 2, OAS3, MSSQL
Devops
AWS, Docker, Kubernetes, Gitlab CI, Ansible, Vagrant, Helm
Quality Assurance
White-Box Testing, Black-Box Testing, Performance Test, Regression Test, Usability Test, Test Automation, SOAP-UI, Selenium
Digital Product Design
UX/UI design, Styleguide, Prototyping, Figma, Axure, Research, Heuristic analysis, Usability testing, UX tracking, Analytics, Service design, Persona, Journey
Project and task management
Jira
Ecommerce Growth Ebook
Are you planning to start a webshop or mobile shop? Or do you want to improve your online sales channel? Download the Ecommerce Growth Ebook with lots of useful tips and guidelines for free! The ebook is only available in the Hungarian language.
Learn more about us, how we work, how we help our customers grow online!
(The video is available in the Hungarian language.)
REQUEST A QUOTE
Improve your business efficiency and increase your revenue with customized software solutions tailored to your business needs! With LogiNet's expertise, you can plan for the long term: let us know about your ideas, a problem you're trying to solve or your overall business goals, and we will get back to you shortly!
request a quote